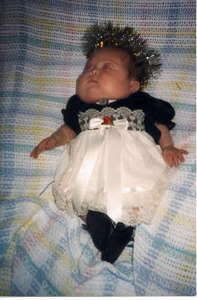 Happy Holidays!
I wanted to share with all of you a little something my daughter, Camryn, wrote at Religious Education class this week. It reads: "Thank you god for the 'Holadays' and 'evreything' that you gave us in the world but not the funny things in the world. I hope my sister is 'haveing' fun with you, Papa and Jazzmine my dog. Amen." Brought tears to my eyes!!!
Special Gifts from Special Friends!
Thanks to my dear friend Stacey for this beautiful angel enhancement. Stace ... I don't know what I'd do without you! You keep me laughing and smiling! Even though we tease each other like crazy, I know you love me just as much as I love you ... Scary huh??? I know that Jaleel and Taylor are laughing and playing together right now, teasing each other the way their mommies do! Love you sister!!!
Thank you my dear friend Rose for this beautiful Christmas picture. This was my favorite holiday photo of my precious angel! Thank you Rose for always remembering Taylor and I even when time gets the best of us. I know that "Grandma Juanita" is having a ball rocking my angel to sleep each night. I love you my dear friend!
Hello my sweet friend Priscilla! Thank you so much for this beautiful picture of my baby girl! You have become such a wonderful friend to me and your comments and emails always cheer me up! I know the holidays are especially difficult for you, my friend, since your daddy was born and died so close to Thanksgiving and Christmas. I know that your daddy and mine are having a ball playing cards and telling jokes while watching out for baby Taylor! Know that I love you and I'm here for you whenever you need me!
Hello my friend Tina! Thank you for the beautiful holiday photo of Angel Taylor. I especially love the little fawn next to her! I know that Christi sees "Gino" in her yard on several occasions in the form of a handsome buck. The picture of the baby fawn brought tears to my eyes and was a reminder to me that your gorgeous son is watching out for my baby girl! Thank you Tina for being such a special friend to me ... I love you so much!
Thank you Tina for this beautiful poem you posted on Gino's site for Taylor!
Mummy
It's me, your little Angel Just checking in with you.
I know you're sad because I'm gone, and Mummy I'm sad too.
It's beautiful here, wherever I am, there's such a lovely view.
But mostly when I'm sitting here I'm looking down at you
I see all your feelings, everyday when I look down,
I love to see you smile and I know sometimes you frown
But guess what? I have a job to do. God saved it for your little girl.
I get to watch over you and protect you from the world.
So though you cannot see me and I know it's hard on you,
You'll surely see the benefits of the job God has me do.
~Author unknown
Hello Darla! You were one of the very first people to leave me a message on VM. You are so amazing and reach out to so many people, no matter what is going on in your life! I've never 'met' someone who is going through so much yet still has the time to make others feel special. You are an amazing lady and I'm so glad to call you my friend!!! Thank you for ALWAYS being there for me! I know that your sweet sister Cathy is being the best teacher ever to my sweet Taylor!
Hello dear Christi! You and I have only recently 'met' yet I feel as if I've known you my whole life! Your compassion for others truly amazes me. You give to others so selflessly and I only hope that we can meet in person some day. Thank you for being such a wonderful and supportive friend to me. Your strong will and great sense of humor really help keep me going! Wishing you a very happy holiday in your beautiful new home! I know that your mama is taking great care of my baby girl. Taylor is so lucky!
Hello Trudy! I know it's been awhile since we've 'talked' but I want to tell you how much your little emails and cards mean to me! You hold a special place in my heart and always will. I know we have a special bond and understand one another completely since we both lost our baby girls. That pain will never go away but friends like you help make life easier to get through. Thank you for being such a wonderful friend!
To my dearest and closest friend Janice!!!!
Hello my sweet friend Janice! What can I possibly say? You have become such an important part of my life and I cannot thank you enough! Your beautiful granddaughter, Lakyn, was the inspiration for the song I chose for this page. Every time I hear this song, I imagine Lakyn laughing as she is in this picture. From the first time I visited Lakyn's site, I felt as if I knew her. I can imagine Lakyn laughing and playing with my Taylor, being the best baby-sitter ever! Your kindness and support mean more to me than you can imagine. I appreciate your "words of wisdom" when I have emailed you for advice. I only hope that I help support you as much as you help me. Your friendship means the world to me and I cannot thank you enough for that. Happy Holidays my dear friend!!!!!
Thank you Lynn for this beautiful collage of Taylor! I am so honored that you put it on your precious grandson's site. Riley was an amazing little man and was such a fighter, just like Taylor. I can imagine the trouble those two are causing their loved ones up in heaven!! Don't worry though, they have so many angels to look after them. I'm sure that Angel Cathy is trying hard to teach them to behave!
Thank you also to Lynn for this gorgeous photo collage of our family. Even though Taylor was only with us for a short time, she brought us so much joy and love. She taught us all a lesson about how precious life is!!
A special thank you to my new friend Toni for this beautiful enhancement of Taylor. Even though we've only recently "met," it seems like I've known you forever. Thank you so much for all you do for so many of us here at VM. Your beautiful mom raised a wonderful lady!! I know that Bonnie is taking special care of my Taylor along with all our other angel friends!
I am so happy to have met you Toni! I know that you and I were brought up with very special parents. Your mom and my dad must be celebrating their daughters ... I know they're so proud of us. Thank you so much for your friendship and for this lovely collage of "Team Taylor!" I only hope that someday we can meet in person so we can celebrate the lives of our special angels! Thank you for being such a wonderful friend!!!
Thank you Toni for this beautiful New Year's tribute to Taylor and the other VM angels. I wish all of my friends and family here at VM a very happy and healthy 2008 ... I love you all!